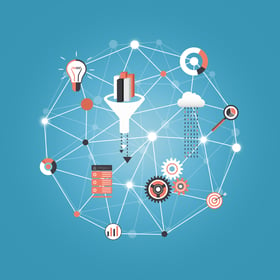 Are you considering migrating to software defined systems to automate just about everything in your infrastructure? A software defined system uses software to automate and virtualize the main components of your IT architecture: Compute, Networking, and Storage. There are a number of benefits of software defined technology and today we will highlight five major benefits—we call them the 5 A's.
Software Defined Systems Benefits — The 5 A's
1. Accuracy – In transitioning to a software driven enterprise, the network framework will become programmable and automated, thus eliminating human (or even machine) error. Think about the implications of this: no longer will the traffic traversing your network be dependent upon the hardware you are running. Rather, the traffic will be routed intelligently, via software that is smarter than a switch or router. The application, once the gravy on top of the meal, now becomes the entire meal itself. It knows what it needs to do, and it takes the most efficient path to get there, allowing for intelligent accuracy that reduces the need for constant babysitting of your network by IT staff, as well as cuts your costs and improves your operating efficiency.
2. Adaptability – No more reliance on hardware vendors who have you locked in, with big capital expenditures for upgrades that you cannot afford. Your network or data storage will now be software-enabled or virtualized so that you can easily switch from environment to environment without the hassle of a "rip and replace" initiative or hiring extra staff to manage an environment change. This allows your company to scale on a very low margin, saving you time and money (and of course, headaches.)
3. Agility – Agility is the ease in which your organization's data computation can navigate complex environments quickly, and according to your enterprise's specific needs. According to an article on Infoworld.com, "Business agility is the new currency for valuing technology in the enterprise and increased agility is what virtualization delivered and compute clouds promise."
With software defined systems, you can move between one system and another, switching environments whenever you choose. You can set up your applications instantly over a software defined system, and you can take them down instantly as well. This agile environment optimizes the user experience while greatly reducing costs.
4. Alignment – All of your resources within your infrastructure will be completely aligned, rather than disparate hardware and software that requires intensive (and costly) IT maintenance. In fact, the alignment benefit from software defined technology will be a driving factor in IT innovation.
Rather than incurring a huge expense for IT staff dedicated to support a mismatch of vendors, equipment, and software, IT will be looked upon to innovate—driving profitability with a more strategic approach. The role of IT will be elevated to oversee infrastructure that is driven by business policies and priorities, rather than being consumed with fixing problems and putting out fires. Software defined systems enable IT to be proactive, rather than reactive.
5. Assurance – Every organization has policy and compliance requirements that must be in place and monitored. With software defined systems in place, your organization will have a much higher degree of confidence that your entire infrastructure is compliant with the standards and regulations that your organization must adhere to.
As you can see, software defined systems provide benefits to your enterprise that are crucial in the very fabric of your business. These 5 A's guide you toward a congruent, optimally working infrastructure that promises to propel your organization into the next generation of software defined technology with ease.
Learn more about the benefits and how they can impact your business processes in a positive way by downloading our whitepaper, Managing the Software Defined Enterprise.