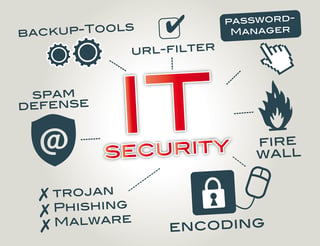 There's a lot to learn every day in the world of technology, especially with the ever-increasing amount of high-profile cyber breaches and criminal hacks. It seems every news article brings a new security scare, and businesses should be more alert than ever before. Want to know what threats are out there? Read on for an overview of recent security breaches, and find out what your organization can learn from them.
Protect Your Enterprise: New Malware to Know
WannaCry Ransomware
Surely by now you've heard of WannaCry, one of the world's most recent and destructive widespread pieces of malware that swept the nation this past May. According to cyber security firm Avast, the WannaCry destruction included at least 75,000 ransomware attacks in 99 countries, making it one of the broadest and most damaging cyberattacks in history.
While the majority of attacks were targeted at nations such as Ukraine, Taiwan and Russia, several UK companies and U.S. businesses were hit as well. What stopped these businesses, shutting down operations and rendering crucial data inaccessible, was a classic piece of ransomware. As CNN Tech reported, "The ransomware locks down all the files on an infected computer and asks the computer's administrator to pay in order to regain control of them. The exploit was leaked last month as part of a trove of NSA spy tools."
What WannaCry taught us is the sheer spread and rate at which these malicious attacks can spread. Enterprises of all sizes around the world should prepare themselves by reinforcing security strategies and closing up vulnerabilities.
DevilRobber Cryptocurrency Miner
For Mac users, this next threat to be aware of is the second most widespread Mac malware. Having made a comeback in activity in the past couple of months, DevilRobber was first spotted in 2011; it also goes by Miner-D and OSX.Coinbitminer. When it first came about, it was so damaging that Apple had to release emergency Mac updates to limit the spread of the malware and attempt to protect affected users.
Unfortunately, DevilRobber is back. Latest reports show this malware is gaining speed; DevilRobber took up 2.4 percent of Mac malware detections in May, but grew in June to 21.6 percent of all detections, ranking second on Symantec's list of most active Mac malware. To combat malware, read the advice in this blog post.
Less Malware, But More Advanced Attacks
While there are huge cyber breaches to report, attacks spanning hundreds of nations and it seems like malware might never end, we can expect 2017 and beyond to see fewer instances. However, the attacks reported will be more advanced, and more destructive. According to Panda Security, "Cybercriminals focus their efforts on those attacks which can rake in the most profit, using more effective tactics and professionalizing their operations in a way that allows them to make quick and easy money in an efficient manner."
Malware isn't the only threat your enterprise should be aware of. Symantec's June Intelligence Report noted a huge spike in global spam levels. According to the report, spam emails accounted for 54.3 percent of global internet email volume, which was the highest level since November 2016.
Since cybercriminals are taking a stronger approach to creative and deeply penetrative attacks, it's crucial for IT to preemptively protect against incoming threats. Always run security updates, hold regular team-wide trainings, avoid phishing attacks and never open unsolicited email attachments. For a full list, click here.
Want to protect your enterprise from the deluge of threats? Contact your team at WEI today for a personalized overview of your enterprise security. Also, make sure you take advantage of our free security and threat prevention assessment to determine your best data protection methods.