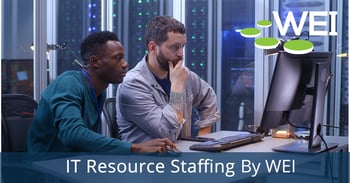 You may have heard the good news―WEI is expanding our staff augmentation services to all our customers. While we've been perfecting the practice of IT recruiting and IT staffing for our Fortune 100 customers for over ten years, we realize this service offering was born from the very real need to fulfill IT roles with the 'right' person. Time and cost are always part of the headache of finding highly specialized IT resources with sought after skill sets. Our expansive network and our seasoned engineering experts (spanning all IT disciplines) puts us in a position of distinction to confidently offer this service, and our existing customers have found tremendous value in our offering. IT staffing is a challenging practice, but we have all the tools, the network, and the in-house expertise to deliver this additional service for our enterprise IT customers with an unmatched level of commitment and dedication to seeing our customers succeed.
Officially introducing… IT Resource Staffing by WEI
People are your most valuable asset for project success, but finding the right people quickly is one of the toughest challenges our customers face. When critical projects are on the line and you need a highly specialized skill set, IT Resource Staffing by WEI can help you save countless hours and operational costs associated with finding the right technical resources.
We specialize in taking on your toughest IT recruiting challenges. After a thorough assessment of your specific needs, we deliver quality IT resources with proven experience. We invest our time and industry expertise to ensure you find the right technical and cultural fit for project success. WEI's experienced engineering experts vet all candidates prior to presenting them to you for placement.
"Through our staff augmentation services, we are helping companies find the talent they need to ensure project success," said WEI President Belisario Rosas. "We take on the burden of finding and screening candidates so our customers can focus on their strategic business objectives instead of hiring."
The secret behind this success comes from the relationships we have built with our treasured customers. Anyone who has worked with WEI knows we are obsessed with customer service. We get to know every aspect of your business—from your IT environment, to your business objectives, to your team's strengths and gaps. We also get to know YOU, as the hiring manager and the person leading the team's next successful project. Our relationship with you and your company is built on a platform of respect and shared success, and over the years our engineers become engulfed in your company culture as well. We have a unique perspective that can only come with time and experience, and when recruiting on your behalf it helps ensure we find the right candidate for the job, much quicker than traditional staffing firms or corporate HR.
Reap the benefits of IT Staffing with the WEI team
You can feel confident working with our team because WEI's experienced engineering experts vet all candidates prior to presenting them to you for placement. Our contract-to-direct hire services allow you to eliminate costly hiring mistakes by assessing candidates in an on the job setting before making long-term hiring decisions. Working with WEI for IT resource staffing needs helps you:
Free up internal resources
Reduce operational costs
Fill knowledge gaps quickly
Accelerate time to market
Capitalize on the latest technology investments
We maintain a network of highly skilled engineers with top-level certifications that can hit the ground running and help you meet your business objectives. Our IT contracting and IT staffing services allow you to augment your regular workforce with IT professionals with proven qualifications for as long as you need them. We can help you identify and bring on the best talent available, so can focus on delivering the outcomes your business demands.
Plus, we're different! We proactively learn about your IT needs and challenges, and desired business outcomes. Armed with this understanding we spare no time in identifying the people to provide the skills and talents you need. We qualify skill sets and experience as it relates to your unique needs, and because our own technical experts are part of the process, we save significant time weeding out the unqualified candidates by only presenting the best IT staffing candidates. When an urgent need arises, as it so often does, you can count on WEI to jump on the challenge with high-quality options at an industry-leading turnaround time.
IT Staffing solutions across all IT job functions
WEI thrives on finding the talent that others may miss. And our engineers vet all IT contracting candidates for you. Take a look at a sample of the IT functions where we have IT recruitment experience.
Areas of Expertise:
Technology Executive Management (CIO, CTO, VP, etc.)
Database Analysis, Development, Administration, and Architecture
Business Intelligence, Data Warehousing, Reporting
Project Management
Product Management
Business Analysis, Systems Analysis, Data Analysis
Software Engineering
Web Engineering & Development
Systems Engineering & Administration
ERP (Implementation, Support, & Development)
User Interface Development & Design (UI/UX)
Mobile technologies
Cloud technologies (Public, private, hybrid)
Big Data technologies
QA Engineering
DevOps Engineering
Network Engineering (Administration, Architecture)
Infrastructure Design & Engineering
Desktop Support/Help Desk
How to get started with IT Resource Staffing by WEI
Our IT recruiting experience was born from the demand of our customers. For well over 10 years we've mastered the best practices in IT recruitment, and since we take the time to get to know your business, we take pride in ensuring we help you find the right cultural fit for your company. That is a key aspect of IT staffing success.
NEXT STEPS: We maintain a network of highly skilled engineers with top-level certifications that can hit the ground running and help you meet your business objectives. The easiest way to get started is to send an email to ITresourcestaffing@WEI.com.
If you happen to be looking for your next challenge, you can refer to our careers page to explore our current opportunities. We may have something for you now, or something in the works that requires YOUR expertise!
Learn more about the relationships we build with our customers.
See first-hand how our relationships with our customers fuel success. Our commitment to seeing you succeed is ongoing, and as a result of that dedication we grow together.