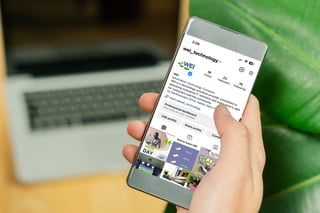 First launched in October 2010, Instagram started as a photo and video sharing app. Creators of the app were among the first to realize the potential of visual content to connect with followers. Today, Instagram focuses on a high-end visual experience where hundreds of millions daily users engage with photo and video content.
Now, 13 years after entering the social media ring, Instagram is joined alongside Facebook and WhatsApp under the Meta Platforms, Inc. umbrella. Instagram has evolved over recent years to keep up with the likes of TikTok, a short form video hosting service. Generally, Instagram is better suited for more polished content while TikTok revels in the space of raw, authentic video content.
Five Steps To Keep Your Instagram Account Secure
Our experts have written plenty about the importance of cybersecurity and keeping up with the latest software rollouts. But this practice also applies to our personal lives outside of the enterprise, too. The smartphone is perhaps the single most important tool we use every single day. Whether it be used for answering work email, paying bills, or casually checking the weather, it is easy to take this technology for granted. But where comfort lies, you will also find vulnerability.
Instagram is one of the most used social media platforms. And with its popularity, many users access the app without worrying about the lack of multi-factor authentication or the worst-kept secret of machine-learned algorithms that process user behavior. So, what can be done to ensure a safe user experience? We have a few ideas worth sharing:
Step 1: Turn on two-factor authentication to provide extra security.
Step 2: Use a unique password that differs from your other social media accounts passwords. In addition, avoid applying characters from your account's username to your account's password.
Step 3: Change your password regularly. Instagram does have automated security checks in place, so if you receive a notification advising you to change your password, it is best to do so. Changing your password frequently will lessen the chances of your Instagram account getting hacked.
Step 4: Only connect your account to an email that is secure. It is important that the email you connect your account to is only accessed by you and not other users.
Step 5: Always log out of your account when using a device that is not private to just you. NEVER check the box saying Remember Me on a device that is not entirely yours (such as a public device). Selecting: Remember Me will allow that device and any future people who use that device to have access your account.
Join WEI On Instagram!
WEI recently launched its first Instagram page, and there is a plenty of reason for our growing audience to be excited! Our account will post a variety of content including workplace life, events, technology factoids, and so much more. While we also manage content for LinkedIn, Twitter, and Facebook, Instagram allows our creative team to flex their muscle and engage with social media users in different ways. Be sure to follow us!
Next Steps: In celebration of WEI joining Instagram, we are coordinating an Instagram giveaway! Be sure to follow our new account and enter our giveaway. How to enter:
Step 1: Follow @wei_technology on Instagram
Step 2: Like our a promotion post
Step 3: Tag 2 friends in the comments of the promotional post
The giveaway challenge takes place between March 1 - 21 and a winner will be selected on March 22, 2023.