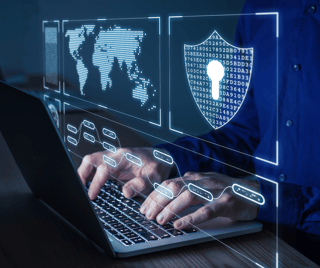 A constant, unwelcome guest in the digital transformation era refuses to leave: ransomware. This digital villain continues to adapt and grow despite years of battle. Although there have been a number of alerts and updates about ransomware, enterprises are still finding it difficult to ward off these threats.
According to the Fortinet 2023 Global Ransomware Report, two-thirds of the surveyed global organizations experienced ransomware attacks, with half of those targeted ultimately giving in to attackers' demands. This ongoing struggle against digital extortion sheds light on the enduring challenges of modern times. In light of this, it's essential for businesses to equip themselves with effective defenses to counter this persistent problem.
Strategies To Counter Ransomware
Ransomware poses a significant threat to organizations, from data loss to operational disruptions. Fortunately, there are a host of measures available to reinforce defenses. In fact, 50% of IT leaders surveyed for the report identified some key technologies to safeguard systems:
Internet of Things (IoT)
Secure Access Service Edge (SASE)
Secure cloud workloads
Next-Generation Firewalls (NGFWs)
Endpoint Detection and Response (EDR)
Zero Trust Network Access (ZTNA)
Secure Email Gateways (SEG)
Additionally, these stakeholders understand that proper security training, backup capabilities, and reassessment of resources are important in enhancing cybersecurity measures. This goes to show that IT leaders already see the value of investing in these solutions to mitigate the impact of ransomware.
Tackling Ransomware With Fortinet
A longtime partner of WEI and bona fide leader in the cybersecurity world, Fortinet continues taking significant strides in blocking the threats to suit various organizational needs. Its Security Fabric portfolio offers a suite of tools and services designed to address every facet of data and network protection and recovery.
This integrated system harnesses the power of AI and machine learning to seamlessly merge prevention, detection, and response functions across the entire spectrum of cyberattacks. Moreover, Fortinet's solutions are scalable and extend personnel support by offering readiness assessments and specialized training to effectively counter ransomware incidents.
Here's how Fortinet's five-point solution and service helps businesses thwart ransomware, as outlined by the U.S. Commerce Department's National Institute of Standards and Technology (NIST) Cybersecurity Framework (CSF) 1.1:
This comprehensive strategy is in accordance with industry standards to ensure readiness, prevention, swift detection, expert response, and effective recovery against the ever-present ransomware threat.
Final Thoughts
In this rapidly evolving digital landscape, organizations need IT infrastructure to withstand ransomware attacks. Fortifying your defenses not only safeguards critical data and operations, but also bolsters your ability to adapt and thrive operationally.
Our experts at WEI possess a deep understanding of cybersecurity and ransomware's evolving tactics. Contact us today to begin an assessment of your organization's vulnerabilities, and we can tailor solutions to your specific needs. As a valued partner, we will make sure your IT landscape remains resilient against the ever-present threat of ransomware.

Next steps: Curious about what your business can do right now to make the most of your hybrid workforce? Download our Cloud Security Tech Brief to learn more about how you can improve the efficiency of your team.