We understand businesses have a real responsibility to help reduce the possibility of COVID-19 transmission in their organization, and as a technology innovator, WEI is here to help. As COVID-19 continues to challenge our daily lives, enterprise leaders are in need of a tool to ensure the safety of their employees while also promoting productivity and efficiency wherever possible. To help fill this need, WEI has introduced iCovidScreen, a web-based mobile COVID-19 self-screening application, utilizing a custom questionnaire based on the latest Centers For Disease Control and Prevention (CDC) guidelines.
What is iCovidScreen?
iCovidScreen from WEI is a quick, low cost, easy self-assessment tool for tracking COVID-19 symptoms and risk factors. This solution provides your company a digital compliance tracking system for managing and controlling access to your business in a safe, fast, and reliable way. Most importantly it helps companies effectively manage contact tracing at each facility, and it's completely paperless. By utilizing iCovidScreen, enterprises can quickly and easily comply with all health and safety regulations as mandated by state and federal governments. In addition to providing the analytics and records needed for accurate contact tracing, it takes away the hassle of manually screening employees each day as they enter the workplace. For employees, it speeds up an often slow and tedious process, while also removing all unnecessary touch-points, further promoting health and safety in the workplace. It also brings some peace of mind to your staff, which is something many of us have been seeking for the majority of 2020.
How iCovidScreen Works
As an employee arrives at their workplace, they will access the iCovidScreen application or web link on their phone. After filling out the daily questionnaire, a QR code will appear on their device. The employee will scan the QR code at the iCovidScreen solution stand and verify their temperature within 1 second, with either a contactless forehead or wrist scan.
Using infrared technology, the iCovidScreen solution detects an employee's body temperature, without the potential privacy concerns of a thermal camera solution. Because temperature can also be read with a wrist scan, potential avenues for errors, like perspiration, makeup, or hair are eliminated. Once the employee's temperature is taken and they are determined to be within the safe zone, they will be given access to the facility for the day. Through the iCovidScreen solution, employees can be granted access to their workplace in less than 25 seconds.
This video provides a nice overview of how it works and demonstrates how quick the screening process really is.
As an autonomous system, COVID-19 screening no longer needs to be managed by a dedicated staff member, increasing efficiency and reducing unnecessary contact between employees. This also reduces costs associated with employees dedicated to COVID-19 screening.
iCovidScreen is available at several different plan levels, including a free version, an iCovid QR version and a iCovid Temp Control version. The free plan includes the basic features of the solution, including a PDF copy of daily questionnaire responses sent to a specified email, while the paid versions include additional features including a cloud administrator panel for management, history and data analysis for contact tracing purposes, 24/7 support via email, and a CDC compliant questionnaire with your company's logo. The iCovid Temp Control plan also includes the iCovidScreen solution stand. Consider iCovidScreen as your digital compliance solution for tracking and management of COVID-19 symptoms and risk factors.
Dedicated to Health and Safety in our Community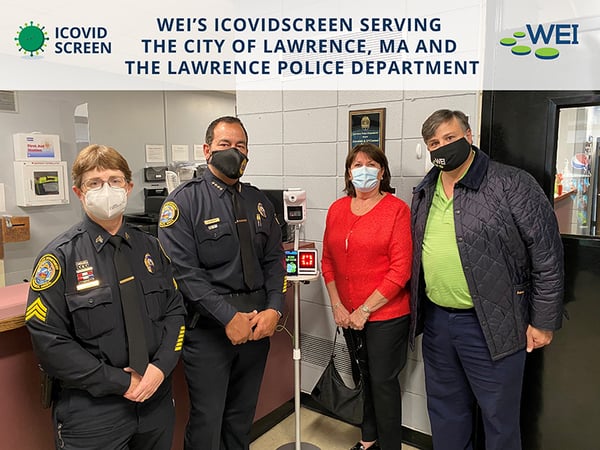 To further promote health and safety within the local community, WEI StepsUp, WEI's corporate social responsibility program, donated two iCovidScreen solution stands to the Lawrence Police Department. We made the donation in the name of late Retired Lawrence Police Sergeant, Donald M. Cronin. Cronin served the city of Lawrence, MA for 38 years with dignity and pride by protecting and serving his community, and has close family ties with WEI.
WEI has also rolled out the iCovidScreen solution for several of our enterprise customers, as well as local ice skating rinks, sports and training facilities, schools, construction companies, and other essential businesses that rely on employees to be on-site.
How To Get Started With iCovidScreen
Could your business benefit from a digital compliance tool for tracking and managing COVID-19 symptoms and risk factors?
Setup can be completed in as little as a few days, with only a 110/220V power outlet and access to a 2.4 or 5 Wi-Fi network required onsite.
If you'd like to learn more about iCovidScreen, ask about pricing, or see a demo, you can send an email directly to staysafe@icovidscreen.com and we will contact you within one business day.
Click on our Solution Overview below to download and share with your colleagues, or businesses you have visited that would benefit from a low cost, simple, and reliable COVID-19 screening solution.