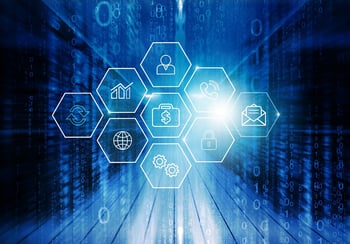 There's nothing worse than an investment that doesn't pan out. Whether it's hardware or software, a solution that fails to meet expectations, or wastes time and resources, stifles your enterprise's ability to do business. For these and many other reasons, IT organizations have turned to "as-a-service" models, which lower the burdens and risks associated with new solutions. Get ready for the next aaS offering: Network-as-a-Service with HPE GreenLake for Aruba.
As a comprehensive network-as-a-service (NaaS) solution, HPE GreenLake for Aruba combines the best of Aruba's products and essential services with the flexibility of HPE GreenLake's delivery model.
Built-In Flexibility Boosts Productivity And Performance
HPE GreenLake for Aruba is delivered using a data-driven service management approach, which automates workflows and other key capabilities while also allowing customers to fit the solution to their needs.
The benefits offered by HPE GreenLake for Aruba include:
An accelerated on-boarding experience
Reduced burden on IT through support from Aruba's expert team and data-driven automation
Dodge network slowdowns and outages through strategic service expansions and simple renewals
Reduced cost and predictable subscription payments on a regular schedule
Added value through HPE GreenLake
A recent study by Forrester found that customers that utilized HPE GreenLake saw an increase in IT team productivity of 40% through reducing the support load and a 75% shorted time to market for deploying global IT products. HPE GreenLake for Aruba combines these benefits with Aruba's portfolio to maximize IT efficiencies and lower costs.
[Featured Video]
Three Reasons Why HPE GreenLake is the FUTURE of IT
By utilizing HPE GreenLake For Aruba, enterprises will also have access to the following managed connectivity services:
A Customer Experience Management program
Aruba Service Manager portal for insights and visibility
Equipment refreshes, which can be planned for mid-cycle or at the time of renewal
24/7 monitoring and remote daily operations
Put most simply, HPE GreenLake for Aruba respects the need for enterprises to guard the bottom line, while also offering strategies to maximize IT efficiencies and improve performance for end-users.
NaaS And The Intelligent Edge
As identified by IDC, today's enterprises need the network to embrace the edge, wherever it may be. "The edge is where data is created, captured, and processed," whether it's the cloud or an internet of things (IoT) device.
To combat the increased burden of management for this extended enterprise network, NaaS offers enterprises a way to outsource the day-to-day management of the network. It also offers dynamic scalability and access to cutting-edge technology through a flexible consumption model. In the report, IDC identifies NaaS as a critical piece for extending the enterprise network to the edge.
Is NaaS with HPE GreenLake Right For You?
In a recent report from IDC, researchers found that when enterprises adopted as-a-service (aaS) offerings on the basis of budgeting, they found additional benefits including:
Improved agility, which leads to better life-cycle management
Improved productivity and business responsiveness to drive growth from quicker access to new functions and features
Budgeting is improved through analytics features
Perhaps most importantly, "Customers quickly realized that the enhanced visibility, transparency, and flexibility of these models allow IT and business leaders to use real-time insights to make strategic business decisions."
When it comes to NaaS, organizations have come to expect the same service levels and bandwidth access, regardless of the location. This need for availability and flexibility, as well as optimized network performance is driving enterprises towards the adoption of NaaS.
Another driving factor is the need to acquire new IT assets without significant upfront costs. In a recent survey conducted by IDC, 43% of respondents believed that the unique challenges of 2020 and beyond would "significantly or moderately increase" interest in aaS models. IDC also observed that once implemented, aaS models have a high retention rate and frequently lead to increases in implementation.
Are You Interested In HPE GreenLake For Aruba?
As a global, edge-to-cloud company, HPE is helping enterprises around the world implement solutions that improve productivity and reduce costs. In partnering with Aruba for HPE GreenLake for Aruba, they are delivering the reliable, secure, and simple as-a-Service networking experience your employees and IT team need to be successful. Contact us today to learn how your busines cna start reaping the benefits of the his Network-as-a-service model.
NEXT STEPS: How is your Wi-Fi performing? We can help you determine the answer to that, and provide actionable recommendations to improve Wi-Fi connectivity across your campus or distributed enterprise. Learn more about our wireless network assessment below.