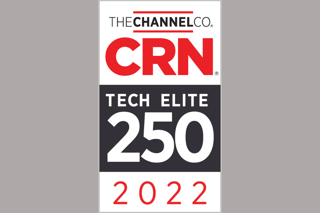 WEI has proudly been recognized on the CRN Tech Elite 250 List for 11 years in a row. Each year, The Channel Company's research group and CRN editors distinguish the most client-driven technical certifications in the North American IT channel. We work hard and outside the box to be an IT solutions provider that puts our customers in the best position to meet their respective objectives. In this article, you can learn more about WEI and the innovative processes that keep us honored to be recognized by organizations such as The Channel Company.
About WEI
WEI has been a leader in business and technology innovation for over 30 years, focusing on providing IT consulting services and optimizing customers' technology infrastructure. Our headquarters are located in Salem, New Hampshire – just north of Boston –and we partner with a variety of mid-size and large enterprises. WEI is dedicated to delivering innovation to clients and partner organizations. We help clients integrate corporate strategy, new technologies, and mold their current IT environment into one company-wide model to increase utilization and efficiencies around their unique business processes. The ultimate goal is to achieve desired business outcomes.
We work with a wide array of today's technologies and collaborate with companies of all industries to design perfect solutions for our clients. These partnerships also allow us to gain a large range of experience to help us adapt and design custom solutions. Through innovative solutions and a high pedigree of in-house engineering, WEI is continually motivated to customize client needs.
Another way our company innovates in IT solutions is our belief in the power of diversity. Sharing different viewpoints and perspectives is how we strengthen our business and innovations. Leslie Rosas, the co-founder of WEI says, "Our family-like culture welcomes everyone and gives a voice to all employees. We support each other, we work together, and above all else – we respect each other." This value of teamwork inspires us to solve complex problems for each of our customers.
Why Customers Rely On WEI
Businesses rely on solution providers for an enormous number of technologies, services, and expertise to help them meet today's IT challenges — whether it's a new implementation, infrastructure test, cloud migration, or digital transformation initiatives. To meet these demands, solution providers must maintain high levels of training and certification from IT vendors and achieve the highest tiers within those vendors' partner programs, and that's exactly what we do.
Customers turn to our best-of-breed engineers time and again because we ensure our relationships with them are built on trust. We strive to do what's right not only for our customers but also for our colleagues and the community. Our team listens to our customers so we can deliver top-notch IT solutions and create enduring relationships. When designing solutions for its clients, WEI technicians prioritize customer satisfaction. To that end, WEI makes sure to pursue technical certifications that benefit customers, while also ensuring technicians are well-versed in new developments in areas such as cloud computing, networking, and end-user computing. This guarantees our engineers can handle complex IT challenges with their hands-on training and experience. By putting the customer first and ensuring that every solution WEI designs is at the forefront of innovation, WEI helps drive businesses forward.
WEI custom builds solutions with the customer in mind, combining state-of-the-art technology with intelligent design to help clients reach their business objectives and propel enterprises forward. By partnering with only the most innovative technology organizations, whether large industry leaders or emerging companies, WEI ensures that solutions are built with the best products available today. We are pleased to say this is one of the reasons we have been chosen for the Tech Elite 250 List for many years.
We are always grateful for the opportunity to be recognized for earning the highest level of technical certifications from leading technology suppliers such as Hewlett Packard Enterprise, VMware, Cisco, Dell, Juniper, Fortinet, and Nutanix. WEI is committed to delivering the most innovative IT solutions possible; building intentional, enduring relationships; and doing what's right for customers, colleagues, and our local community.
Next Steps: Access to skilled IT staff, assistance with digital strategies and technology assessments, and implementation support are just a few of the ways that providers like WEI help support IT cost management initiatives. Is IT cost management an area you need help with? Contact us today to start a discussion.