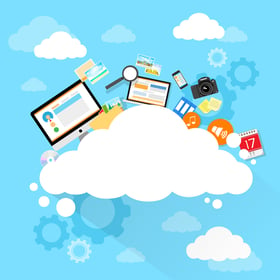 Searching for the best way to store your organization's precious data and informational assets? Your storage infrastructure is incredibly important; in this article we discuss ways software defined storage (SDS) and the Virtual Storage Area Network (vSAN) can complement your strategy. The idea of separating your enterprise's IT control plane from the data plane and running services over commodity hardware rather than custom proprietary hardware is not new; in fact, it can be quite beneficial.
Luckily, to implement an SDS solution, you don't have to transform your data center overnight; you can instead convert gradually, as long as the process is well thought out. One solution we recommend is the vSAN, or Virtual Storage Area Network, which is more expansive in its design and capabilities than the Virtual Server Appliance (VSA). vSAN is similar to traditional external disk arrays, with the exception of these three key differences:
vSAN employs direct attached storage, eliminating the need for isolated networks and zoning switches
Traditional storage volumes such as LUNS or NFS shares are not required
There is no need for a dedicated storage admin allows the virtualization admin to become storage manager and caretaker
VMware's vSAN 6 Solution
Because software defined storage is still relatively new, there are fewer available solutions than the more traditional hardware driven SAN; VMware's vSAN 6is the most prevalent vSAN solution on the market. It's completely hardware agnostic and is designed to abstract logical storage pools from multiple varied storage resources, and manage it through automation.
The vSAN is a software bundle that resides on a virtual machine; vSAN 6 integrates directly with vSphere, allowing a vSphere admin to manage both virtualized computers and storage seamlessly. If you want to take advantage of SDS through the implementation of a vSAN, you first must consider your desired architecture: hybrid or flash.
Hybrid Architecture – A hardware storage configuration consisting of both flash storage disks and traditional magnetic disks.
Flash Architecture –All data storage exclusively resides on flash storage; this provides the optimum level of performance.
Your storage infrastructure needs to offer more service capabilities than simply storing data; vSAN 6 can vastly increase your storage capacity and maximize infrastructure resources through added services such as deduplication, compression and thin provisioning, and is easily configured and managed within vSphere Web Client. This centralization of intelligence and management within the design framework makes it ideal for organizations with branch and remote offices, or telecommuters; all data management and implementation processes can be handled by the main office.
vSAN technology gives enterprises the opportunity to achieve high availability within the data center that traditionally has only been available with expensive, complex external disk arrays. It even makes disaster recovery more achievable with the Stretch Cluster feature. This addition enables enterprise-level availability by offering synchronous replication between data centers residing at different site locations. Even in the loss of an entire site due to a power outage or natural disaster, data loss can be at or near zero.
Whether it's working with multiple sites, multiple storage devices or multiple disk technologies, vSAN provides the capabilities to maximize resources, performance and redundancy, without expensive proprietary hardware. The business benefits you receive from convergence and implementation include:
Flexibility: A greater degree of elasticity and agility
Real cost savings: Data centers are less dependent on hardware driven redundancy solutions such as external disk arrays
Simplicity: The ability to treat storage as an expanded pool rather than several isolated silos
Freedom: Escaping vendor lock-in and dependency on specialized data hardware employees
Expanded business value: The ability to transform unstructured data into connected data
To take advantage of these benefits and help drive your organization to be the best it can be through the revolutionary new vSAN solution, contact us today!