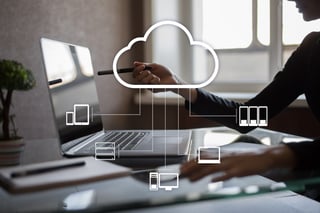 How much data is your enterprise creating and what are you doing about it? For most companies, data is being created, and subsequently stored, at faster and faster rates. However, many enterprises lack the tools to properly utilize and take advantage of their data, especially those that are still struggling with just the data storage part of the equation.
As technology has advanced, we've moved from storing information on tapes to disks and now, in modern times, the cloud. By utilizing the cloud for data storage and processing, enterprises gain great benefits, but no solution is without its costs.
The main issue comes when the data stored on the cloud needs to be utilized by services on-prem or in the data center. Qumulo is helping to solve this problem and liberate enterprises from the confines of data siloes with their new Qumulo Shift for Amazon S3. Keep reading to learn how this solution is redefining cloud data storage.
Find Freedom In Data Management
While a vast majority of enterprises are utilizing the cloud for some amount of data storage, few have utilized it for critical file data, often citing difficulties in moving it one way or the other. As a result, the data lives separately than the applications that need it, reducing the effectiveness and utilization of this data. To get around this problem, some IT teams have re-built workflows to use data while it's in the cloud, but this comes with its own set of problems.
The bottom line is there hasn't been a simple solution to solve these cloud data storage and utilization issues... Until now.
Qumulo Shift for Amazon S3 allows IT teams to fluidly move data to and from Amazon S3 with just a few clicks, simplifying the cloud storage process and streamlining interactions with other Amazon Web Services as well.
"I like to think of [Qumulo Shift for Amazon S3] as the easiest way for customers to put their file data to work with all the amazing marketplace apps and cloud native services on AWS," said Qumulo Technical Marketing Manager David Sniderman, in a recent discussion with ESG Senior Analyst Scott Sinclair. "Our file system is designed to help users take advantage of the cloud's scalable infrastructure for high performance data processing and content creation … Shift lets customers take that data, wherever they create it, and use it with AWS Cloud Service."
With Qumulo Shift for Amazon S3, Qumulo customers, whether cloud native or creating data on prem, can take that valuable file data and use it with Amazon's full suite of cloud services.
[BONUS CONTENT]

Why Enterprises Choose Qumulo Shift For Amazon S3
In addition to this simplified data management, enterprises will experience a variety of other benefits, including:
Improved data availability for your users, wherever they might be located. In a time when many businesses are utilizing remote or hybrid work environments, this is a benefit that cannot be overestimated.
Realtime visibility and control over data and users. Potential issues can be found quicker and any decisions that must be made regarding the management of data will benefit from a full and accurate picture of the current data environment.
Better data reliability and protection. Thanks to Qumulo's distributed file system, which aggregates and protects cloud storage, enterprises never have to worry about files lost in the cloud. Secondary copies of data are created by native replication, which adds an additional layer of data protection.
Lowered total cost of ownership (TCO). In comparison to legacy solutions, Qumulo Shift for Amazon S3 costs less and offers a higher percentage of provisioned capacity.
Flexibility. Qumulo offers a flexible deployment model, allowing enterprises to create the environment that best suits their performance and capacity needs.
At the heart of it, Qumulo is making it easier for enterprises to keep their data next to their applications, allowing it to be utilized to meet business objectives.
Are You Interested In Qumulo Shift For Amazon S3?
As a leader in data management, Qumulo is trusted by Fortune 500 companies, major film and animation studios, and some of the largest research facilities around the world. From building smart cars, to vital disease research, enterprises around the world are changing the way they store and utilize data thanks to Qumulo. Our team has experience implementing Qumulo for enterprise companies that process and analyze vast amounts of mission-critical data across several industries. Contact us today to learn more about how Qumulo can quickly add value to your data storage environment and strategy.
NEXT STEPS: Check out our latest infographic which shares 7 ways Qumulo is making cloud data storage radically simple. PLUS it includes a case study example of how one of our customers found success leveraging Qumulo with AWS. Click below to learn more.