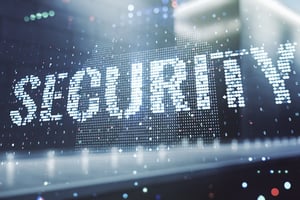 IT security is an increasingly complex mission, especially after the turmoil of 2020. If your organization is like most, your workforce is likely still dispersed, your employees are utilizing their own devices to access the network, and your data is living in a growing number of locations, including the edge, private cloud, public cloud, and on-premises.
In addition to the administrative and management challenges that IT teams face, the distributed nature of today's workplace creates numerous security challenges. Wherever it lives, data must be secured, but this task is infinitely harder when the data is being created at every level of the enterprise and from every internet of things (IoT) device.
To stay on top of the security needs of today's enterprises, we recommend taking a holistic approach to security.
Holistic security with HPE
The financial cost of a cybercrime is growing and cybercriminals are utilizing more advanced methods of attack. Even the smallest vulnerability can offer a path into your IT environment and result in lost or stolen data and wasted resources as your organization recovers.
To prevent an attack, security must be built into every level of the enterprise. HPE takes this approach seriously.
In a recent holistic security report, ActualTech Media stated, "HPE uses secure product development tools and techniques, and performs security assessments throughout its entire product and platform lifecycle processes. This approach lets it make sure security is baked in and validated throughout entire infrastructures and networks."
HPE IT security solutions
From data storage to policy management, HPE's portfolio offers enterprises a comprehensive solution to security.
HPE's ProLiant Gen10 servers provide a secure foundation for hybrid cloud environments, offering unmatched workload optimization, security, and automation. Security begins with the silicon root of trust, "which binds all of the essential firmware into the silicon before the server is even built," according to HPE.
The silicon root of trust also:
Is nearly impossible to alter
Allows firmware to be authenticated as far back as the supply chain
Offers a secure startup process
HPE Gen10 servers also include HPE Integrated Lights-Out 5 (iLO5), which simplifies server setup, power, and thermal optimization, offers remote server administration, and increased hardware security.
[Featured Video]
Real Tech with WEI: HPE ProLiant Gen 10 Servers
In terms of storage, HPE's secure solutions include the HPE SimpliVity family of hyperconverged infrastructure (HCI) products, HPE InfoSight, an AI-driven solution for infrastructure management, and HPE Primera, which offers intelligent storage for mission-critical applications.
Through Aruba ClearPass, HPE also offers secure network access control, which allows enterprises to apply consistent policies and granular security controls to both wired and wireless networks.
HPE and WEI can support large-scale engagements
Another benefit that enterprises can find with HPE is its ability to support massive projects, for both private entities and governmental bodies.
As shared in the ActualTech Media report, HPE supported Berlin, Germany, in its effort to move to a composable infrastructure. This project involved the migration of thousands of servers to HPE Synergy infrastructure and enabled the city's IT group to "build a more modern, efficient, secure, and flexible state IT system for the city of Berlin."
The move to HPE Synergy also boosted the security of the city's secure fiber optic network, the Berliner Landesnetz, which is separate from public internet and over 621 miles long. With Synergy, management of server instances is centralized in one location instead of distrusted across the city and it will also allow for rapid reactions in the case of a threat.
In this WEI data center modernization case study, find out how this financial tax software provider achieved $1M cost savings with HPE Synergy.
With all this in mind, it's clear that HPE can offer the kind of holistic security enterprises need in today's dispersed environments. Regardless of the size, scale, or distribution of your IT environment, HPE can ensure IT security for your organization.
Are You Looking For A Holistic Security Solution?
As a global, edge-to-cloud company, HPE is helping enterprises around the world implement holistic security solutions. Through intelligently designed solutions that ensure long-term sustainability for IT, including the entire Gen10 server portfolio, enterprises can make changes that ensure their business is secure from the ground up.
Next Steps: 91% of enterprise executives and directors cannot read the cyber security reports they receive, and since they are often the target of most cyberattacks, connecting executive leadership with IT security is critical. So, we created this enterprise security checklist for our customers to help them overcome this security responsibility disconnect. Click below to download a copy of the checklist, which includes 12 action items for enterprise leaders, plus tips for aligning the C-suite with the security team.