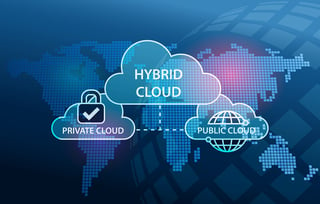 By now you've heard of hybrid cloud and while the offerings available might still seem a little... ah-hem... cloudy, we're here to help you figure out the best mix of cloud solutions for your business, as well as the right cloud model. Today we're talking about how HPE and Morpheus have teamed up to provide a hybrid cloud experience your IT employees will love.
Hybrid cloud environments take the very best of public cloud and traditional on-premises infrastructure to create a flexible, scalable, and cost-effective solution.
If you've determined hybrid cloud is right for your enterprise, the next step is to decide which solution or platform will best suit your needs. In this article, we'll discuss the partnership between Morpheus Data and HPE and how they're bringing increased value to their customers.
HPE And Morpheus Data For Hybrid Cloud
Before we get into how HPE and Morpheus are working together, let's discuss what each are doing to support hybrid cloud.
On HPE's side we have HPE OneView, which offers a template-based approach to management that allows businesses to deploy infrastructure faster, as well as simplify lifecycle operations across compute, storage, and network fabric. In doing so, OneView transforms these resources into software-defined infrastructure and enables IT to increase the speed, agility, and efficiency of application and service delivery.
In addition, HPE Composable Infrastructure offers a public cloud-like experience through pools of compute, storage, and fabric resources with their HPE Synergy offering. In doing so, it reduces operational complexity and increases velocity for cloud-native applications and services.
HPE Synergy, a composable bladed infrastructure that powers workloads within a hybrid cloud environment, offers support for both traditional and cloud-native applications in virtual machines, containers, or on bare metal. By combining software-defined intelligence with a unified API, HPE Synergy is a powerful addition to the HPE ecosystem.
Morpheus Data, created initially as an internal solution to quickly deploy and efficiently manage application stacks across cloud environments, offers a simplified route to hybrid cloud by reducing cost by up to 30% and offers provisioning that's 150 times faster than competitors, while also closing security holes and allowing enterprises to deploy hybrid-cloud automation with increased speed.
Achieve True Hybrid Cloud With HPE And Morpheus Together
When combined, Morpheus takes HPE's compute infrastructure and turns it into an instant private cloud, allowing it to more easily integrate with public cloud. The integration provided by HPE OneView offers links to HPE Synergy Server Profiles and utilizes the HPE Synergy Image Streamer for certain deployments.
HPE and Morpheus are also lowering costs by enabling users to make informed choices about workload placement with in-line comparison tools. By offering policy-based governance with role-based access, HPE and Morpheus give assured control, as well as improving resiliency through automated monitoring, logging, and backup policy. Automatic scaling of instances and application clusters also improve flexibility throughout the hybrid cloud environment.
Through this partnership, HPE and Morpheus have helped customers provision and manage, "nearly half a million application instances. And we have seen some powerful results in sectors that include financial services, healthcare, government, and more."
By partnering with HPE and Morpheus early in their cloud journeys, enterprises can take full advantage of the benefits the two offer, including recommended optimal configurations and power schedules. However, those enterprises well established in hybrid cloud computing can still find significant benefit by utilizing HPE and Morpheus for their hybrid cloud needs.
Together, HPE and Morpheus are solving common issues faced by enterprises around the world, including data siloing, solutions that don't communicate with each other, and IT's lack of time or resources.
Where are you on your journey to the hybrid cloud?
As a global, edge-to-cloud company, HPE is helping enterprises around the world implement solutions that improve productivity and reduce costs through hybrid cloud solutions. By partnering with Morpheus Data, which has now grown to serve some of the largest Fortune 1000 companies and service providers in the world, the two are simplifying the hybrid cloud journey and propelling enterprises forward. If you want to explore more about this partnership and how it will work in your environment, contact the hybrid cloud experts at WEI today.
NEXT STEPS: There has been a lot of buzz around hybrid cloud for years, and its growth in adoption has plenty of new players emerging with solutions to support the popular cloud model. There are a few things you can do to future-proof your investment in hybrid cloud, and we've created a checklist for you below. Click below to grab your copy of the FREE checklist.