Besides delivering increased flexibility and satisfaction to your employees, enterprise mobility is also instrumental in keeping your organization on the cutting edge.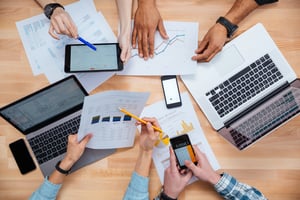 According to research from leading firms like Frost & Sullivan and Dimension Data, workforce mobility solutions improve company efficiency, provide your staff with a greater sense of job satisfaction, and can save you money. The benefits of providing your staff with increased mobility extend far beyond those immediate advantages though, preparing them to make the most of new and emerging technologies that can boost productivity from wherever they work.
This week, we will look at some of the ways that increased mobility can lead to greater innovation, and how businesses can overcome the challenges they often face when trying to implement mobile devices into their operations.
The explosive growth of BYOD has forced enterprise IT to accommodate the mobile workforce. In the above episode of Real Tech with WEI, Chief Architect, Dave Fafel, talks about mobile device management (MDM) solutions and the role they play in managing enterprise devices.
Enterprise Mobility Opens the Door to Artificial Intelligence
Mobile technologies are playing a central role in many new business innovations, which notably includes artificial intelligence. According to this survey of IT decision-makers from MOBI, AI-powered automation ranks as the number one enterprise mobility priority for the next five years.
Mobility solutions can help businesses collect data from a vast number of sources both inside and outside an organization, making it a natural partner to AI, which excels at extracting insight out of large data sets. By augmenting your enterprise mobility programs with AI applications, businesses can gain insight into how both users and employees are interacting with its products or services, monetize products in new and interesting ways, and achieve previously unattainable levels of engagement and customer experience.
The marriage of AI and enterprise mobility has benefits for IT departments as well. IT staffs will soon be able to use advanced machine learning applications to recognize aspects of an individual's behavior, voice, and other personal characteristics, providing a new breed of authentication. Though still in the early phase, some AI-powered security features have already started appearing in the latest generation of enterprise mobility management (EMM) platforms.
Mobile Devices Drive AR/VR Adoption
Augmented reality casts digital images onto a real-world environment with the help of a mobile device or headset. Until recently, AR's use in gaming has gotten the most media attention, but it's applications in a wide variety of vertical industries — such as manufacturing, the medical field, and public safety, will help make the combined VR/AR market worth $117 billion by 2022.
There are already established use cases that demonstrate AR's value in the business world. One area of particular interest is AR's ability to assist in the on-boarding and training of employees, exemplified by the efforts of design firm BEAM, who recently demonstrated how its AR concept might soon help new employees familiarize themselves with the office, while also quickly getting up to speed with the company's current projects. Other emerging augmented reality use cases include interactive product demonstrations in the design and architecture industry, where it's helping firms and clients visualize and interact with early-stage mock-ups of buildings
Much like artificial intelligence, AR technology will be best exploited by companies that already have a strong enterprise mobility solution in place, and the security protections to ensure that both internal and external users can access those mobile applications without endangering sensitive data.
Enterprise Mobility Can Future-Proof Your Workforce
According to Deloitte, 75% of the American workforce will be made up of Millennials by 2025, a group who overwhelmingly expects companies to provide both cutting edge technology and flexible work arrangements. Attracting young talent with mobile technology is an opportunity that many businesses are failing to grasp. According to the research study, "Making the Workplace a Brand-Defining Space," by the CMO Council and Executive Networks, only 23% of companies feel confident about using mobile devices and digital content to drive greater millennial engagement.
Mobile technologies can not only play an important role in helping your company attract younger workers, but can also help you retain them too. By encouraging employees to maintain an optimal work-life balance, another thing that millennials feel very strongly about, businesses can entice workers to stay onboard, rather than jump to another organization that offers a more remote-friendly working condition.
WEI is Skilled in Driving Innovation with Enterprise Mobility
WEI has a range of resources and services that will benefit both companies that are looking to launch a new enterprise mobility initiative, or increase the scale or security of their existing program.
For more information about the current state of mobile security, and for insight into strategies you can use to mitigate the many cyber risks inherent in enterprise mobility, please read our tech brief, "The challenge of Supporting Today's Mobile Enterprise."