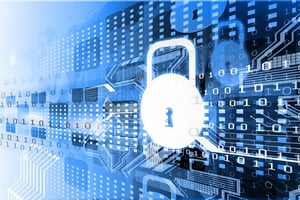 To reliably ensure continued network security, IT professionals know the importance of complete visibility, and governance of all connected devices. A single vulnerability or just one device with unrestricted access can be enough for a hacker to find their way into your network.
Their goal, of finding that one weak point, is much simpler than IT's job of protecting every single device on the network, at least the ones you can see. By implementing a network access control solution, your network security team can identify, assess, and enforce access control on any and all devices before they connect to your network.
Aruba ClearPass is an NAC solution to highly consider. Offering agentless policy control, and automated response, ClearPass will keep your enterprise secure without impeding operations.
A three step plan for complete access control
Aruba's philosophy for network access control begins with a three-step plan.
First, identify the devices that are connected to the network, how many there are, from where they are connecting, and what operating system they are using. These important pieces are the foundation of visibility.
Next, enforce policies that provide user and device access, across all users, devices, and locations. Consistency throughout the enterprise creates an expected user experience, which is an important piece to ensuring efficient workflow.
Finally, protect resources through dynamic policy controls, and real-time threat remediation, which extends to third-party systems. Being prepared for unexpected network behavior requires a unified approach that can block traffic, and adjust a device's connection status.
Aruba ClearPass offers Agentless Policy Control and Response
In an age where the average employee makes use of three devices, NAC solutions must deliver profiling, policy performance, guest access, and more.
ClearPass offers all of the above. Not only does it make network access for guests simple, it offers an alternative to manual intervention whenever a user works remotely or brings their own smartphone.
With ClearPass Onboard, configuration of mobile devices is done automatically, enabling them to connect to enterprise networks without compromising security. This not only supports guest access, but also facilitates BYOD initiatives as well.
Additionally, the enterprise security team will have complete visibility, and centralized policy management capabilities, through ClearPass Policy Manager, part of the Aruba 360 Secure Fabric. As the most advanced secure NAC platform available, ClearPass is unrivaled as the foundation for network security for organizations at any size.
Beyond automated capabilities, and the full visibility and control offered to enterprise security teams, ClearPass supports secure self-service capabilities, allowing end users to access the network and securely configure their own devices, reducing the burden on IT.
Reduce risk throughout the network
The Aruba Policy Enforcement Firewall (PEF), which acts as the policy enforcement mechanism for ClearPass, is a comprehensive access control solution, which provides a "zero trust" boundary at the point of access.
While traditional firewalls that leverage IP-based VLANs only become active after a user or device is admitted to the network, Aruba's PEF uses identity, traffic attributes, and other context to centrally enforce access privileges at the time of initial connection. This important difference ensures that a hacker, who can unleash thousands of malware packets in just a few seconds, has the least amount of time possible to do damage should they gain access to the enterprise network.
When using Aruba's infrastructure, the identity of each user or device is verified before access is granted to the network or its resources. Following this, a role is assigned, and permissions are granted, based on pre-defined rules. This system limits what applications and data a user can reach or who they can communicate with, an important part of reducing security risks.
Additionally, the Aruba PEF has been designated a Cyber Catalyst℠ by Marsh. This designation certifies that the Aruba PEF is effective in reducing cyber risk. Additionally, participating insurers may offer organizations that adopt Cyber Catalyst-designated solutions enhanced terms and conditions on cyber insurance policies.
Ready for a secure NAC solution?
Aruba ClearPass offers enterprises agentless visibility, and dynamic role-based access control, for seamless security enforcement and response across your networks. If you're ready to make the change now, contact WEI to find out how Aruba Clearpass can work in your network environment.