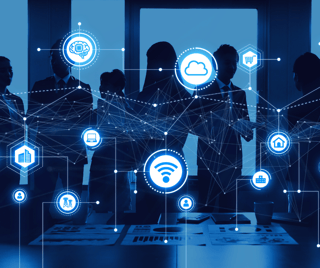 Delivering a personalized and efficient shopping experience to customers is crucial in today's competitive retail landscape. Whether customers are shopping online or offline, achieving this goal requires retail organizations to take experience-first networking strategies. To successfully create this in a hybrid cloud era, retailers must meet these four key requirements:
Setting up a heightened Wi-Fi connection for employees

Optimizing location-based services
Establishing a reliable

network infrastructure

Forming a unified data and connection

security

between retailers and customers
Improved Wi-Fi Network Infrastructure For Retail Employees
Today's business world requires consistent, reliable, and optimized Wi-Fi access for in-store and warehouse operations. This is vital in delivering seamless online-to-offline customer services such as click-and-collect, appointment-driven shopping, and home delivery. With experience-first networking, users are assured of coherent operations, optimal experiences, and increased revenues.
An integrated Wi-Fi network infrastructure is key to achieving maximum efficiency, productivity, and revenue. To achieve cohesive operations and experiences, coordination is necessary across WLAN, LAN, Data Centers, and security domains. With event correlation and Marvis actions, troubleshooting is made easy while dynamic packet capture (PCAP) eliminates truck rolls.
Location-Based Services For Optimized Retail Operations
Experience-first networking means elevating your retail organization with location-based services and optimized warehouse operations. This boosts inventory tracking and reduces errors, creating seamless experiences for your shoppers. To make the most of these services, you need a strong network solution that predicts problems before they occur. This is particularly crucial during busy periods such as holidays to avoid network overload.
Reliable Network Automation And Connectivity
Part of delivering an experience-first networking approach to retail is prioritizing the needs of the operations team – and this is where network automation and optimization come in. By streamlining operators' experiences through better automation and increased AI, businesses can provide new retail apps and services, maintain user experience and security, and quickly address issues.
One significant advantage of automation is access to speedy cloud-hosted operations to swiftly resolve network issues. This gives users seamless availability without any downtime. This approach also automates network deployment, testing, and validation to decrease the possibility of costly human errors. This empowers businesses to simplify network planning, design, and operations while also boosting operational efficiency across multiple locations and departments.
With a stable network infrastructure and strong connectivity between stakeholders, this solution will truly aid your retail business.
Unified Data And Connection Security
As a retailer, you need to ensure the safety of your confidential customer payment information and commercial and employee data. Cyberthreats not only cause significant financial losses and reputational damage, but also leave you and your customers vulnerable to fraud. That's why your network security should be a top priority when deploying networking solutions across stores and headquarters.
Safeguarding your organization with a zero-trust, threat-aware solution that covers all IoT devices and networks ensures rapid response to cyberthreats and integrated compliance with external standards.
Enhance Your Retail Network Infrastructure With Juniper Network
Retail organizations looking to deliver a connected store experience need to prioritize an experience-first approach in their networking strategies. Fortunately, WEI works closely with Juniper Networks to offer retail organizations a comprehensive suite of network solutions and strategies, such as:
Virtualized Bluetooth (vBLE) and Indoor Location Services to enhance customer and employee experiences through virtual beacon accuracy and delivering on-the-spot retail information to customers.
Automated WAN Solutions for advanced security solutions that protect retailers and customers from cyberthreats and offer next-generation firewall protection, intrusion prevention, and advanced threat detection.
Cloud-Ready Data Center for simplifying underlay/overlay management with intent-based automation.
With an AI-driven networking approach, Juniper Networks is an ideal partner for retailers to streamline operations, reduce IT costs, and focus on network agility. Consult with WEI's team of experts to start connecting your retail business to a seamless and reliable network strategy.
Next Steps: Our white paper titled "Overcoming Technology Challenges With Location Based Networking" identifies how Juniper Networks' location-based networking helps higher education institutes overcome complex technology challenges. Readers will better identify:
Concerns of higher education IT professionals
Why network infrastructure is a differentiator
Challenge of improving remote experiences
Value of a virtual network assistant