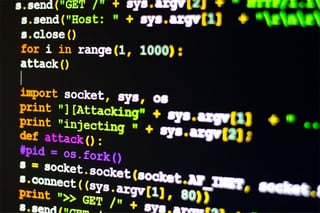 Unsecured printing and imaging leads to security breaches, putting organizations at risk of costly lawsuits and public relations nightmares.

Today's printers can connect to wireless networks, scan and send documents, store data on hard drives, and even produce 3D materials. They have many of the same capabilities—and the same vulnerabilities—as computers. As their features increase, so do the opportunities for security breaches in the printing process.

For example:

- Viruses can be introduced when users print across unsecured wireless networks.
- Information stored on printers can be hacked.
- Employees may unwittingly break security policies when printing from mobile devices.
- Printers oftentimes have no access controls, so it's easy for unauthorized users to access confidential documents.

The high cost of data breaches

According to the Ponemon Institute, the average cost of a data breach is $4 million—and those costs can increase if the stolen or lost records contain usable confidential information. A recent report by the Identity Theft Resource Center found that the number of U.S. data breaches in 2016 hit a record high of 1,093—which represents an increase of 40 percent over the prior year.

With skyrocketing costs and the frequency of data thefts, businesses need to secure their imaging and print devices at all points in the printing process, while:

- Data is in transit
- Documents are being printed from mobile devices
- Data is being stored in the cloud

Watch this quick video to learn how HP Elite Series printers are changing the game in enterprise printer security.

Adding protection at every point

The latest HP printers feature self-healing technologies that subvert attacks on multiple fronts.

1. HP SureStart runs in the background while printers are in use, helping to safeguard against attacks. It verifies BIOS code at every boot cycle. If a code version appears to have a discrepancy, the printer will simply restart in safe mode.

2. Using HP FutureSmart Firmware, you can ensure that only digitally-signed firmware is loaded into memory. This prevents malicious code from executing on your printers. If an issue is detected, the device reboots in a secure mode, and an alert is automatically sent to your IT team.

3. Run-time intrusion detection protects devices while they're in use—which is when they are most vulnerable. This feature continually checks for anomalies during firmware and memory operations. If the device discovers a potential issue, it will automatically reboot.

4. HP JetAdvantage Security Manager checks each printer device's security settings, and automatically resolves any issues.


With these novel capabilities, you can protect your printing and imaging devices without placing a burden on your IT team.

We're proud to work together with HP to help solve your most challenging security issues. Learn more about how WEI and HP can help protect your print and imaging devices.