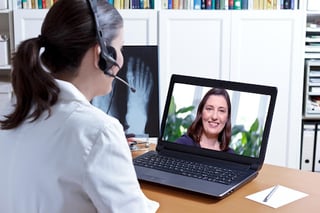 As an industry, it can be argued that healthcare experienced the greatest number of technological challenges at the height of the pandemic. Identifying and implementing the technology that was required for the early months of Covid tested even the most experienced of IT leaders. Radical changes occurred for administrative personnel, clinical personnel, and of course, patients and their families.
While many workplaces opted for a remote-only model, healthcare network teams everywhere had to support the needs of on-site operations and remote operations. This was on top of keeping hospitals, emergency rooms, urgent care centers, and critical outpatient clinics running as smoothly as possible. Never before had the needs of on-site clinicians, whose jobs were done under heavy duress, been so critical. The same goes for remote knowledge workers and honorable clinicians conducting their first telehealth appointments.
Prior to 2020, telehealth was not an unknown concept to hospitals and the smaller clinics within their networks. However, it wasn't exactly a focal point of care for most providers, either. The urgent need to discover innovative ways for clinicians to see patients and to allow staff to work safely from home accelerated the adoption of telehealth services and a focus on end-user computing transformation. Fast forward to summer 2022, and it's clear this practice is unlikely to disappear once the pandemic is behind us. We now see how technology can help deliver healthcare services and lower critical operational costs.
The Importance Of End-User Computing Transformation
The healthcare industry will continue to face challenges over the next few decades. A 2019 study by the World Economic Forum found that by 2050, one in six people will be over the age of 65 and living with a chronic disease. This will inevitably result in an increase in healthcare spending and further the need for providers to reduce costs where they can to ensure funds are spent on patient care, not business processes.
The adoption of cloud-based end-user computing can improve productivity, help clinicians provide meaningful care, and enable technology teams to redesign services and approaches to healthcare. Ultimately, this allows for more virtual care and productive remote work. Despite this, there is immense pressure on healthcare providers to ensure the largest piece of the budget goes to clinical use cases as opposed to technology.
The challenge, then, is to convince healthcare organizations that improving the end-user computing experience can deliver significant benefits.
As one health service CIO states, "We must also get past the notion that technology is unaffordable, and that the longer-term investment in technology, to enable care, should come ahead of shorter-term investment to address immediate pressures on healthcare services like staffing."
The Demand For Telehealth Services
Perhaps the biggest technology-led change we've seen in the healthcare industry is the increase in telehealth options for both inpatients and outpatients. Telehealth services enable patients and their trusted providers to be more connected and engage in real-time communication. Of course, if encouraged, patients can meet with their providers live and in-person, but if a routine appointment can be done remotely, then why not take advantage of this newfound convenience? Overworked and understaffed hospital personnel welcome the decrease in patient/visitor traffic, while safeguarding against the spread of infection is also being applied.
Additionally, telehealth services provide remote access to health assessments, consultations, diagnoses, interventions, and more. Not only do patients have the ability to schedule an interactive telehealth appointment, but technology also allows them to receive appointment reminders, read critical notifications, view test results in a responsive patient portal and even utilize wearable devices that provide metrics on various health concerns.
The increase in telehealth services, however, does create challenges for healthcare IT teams. Deploying and supporting these solutions with the necessary scalability, availability, and security needed introduces significant difficulties for these already overworked teams.
Nutanix And Cybersecurity In The Healthcare Industry
The use of telehealth services, while beneficial to both the patient and the provider, opens up the potential for an increase in cyberattacks. In fact, 66% of healthcare organizations experienced a ransomware attack in 2021, nearly double the number of attacks in 2020. There is clearly a significant need for health organizations to ensure their data is protected and that malware and ransomware are prevented.
End-user computing improves security by eliminating the need to store data on a physical desktop that can be lost or stolen. Instead, private information is stored in a datacenter where it is managed, monitored, and protected.
Nutanix can help your telehealth services run more smoothly and efficiently with a focus on cybersecurity and protecting your organization from cybercriminals. It gives healthcare organizations the freedom to build modern hybrid and multi-cloud solutions with choice, simplicity, and flexibility, and delivers cloud-ready infrastructure combining compute, storage, virtualization, and networking, regardless of location.
Among others, the benefits of utilizing Nutanix for your end-user computing are:
Built-in auditing and remediation: The software remains in compliance and doesn't deviate from the original secure configuration.
Streamlined patches and updates: Simplified upgrades for all software and firmware.
Data-at-Rest Encryption: All data is encrypted using flexible methods.
Least-privilege access: Users receive the least amount of privilege necessary for their roles.
Role-based access control: Different security policies can be assigned to different groups and administrative levels.
Technology in the healthcare industry will continue to evolve, and with it comes the need to ensure your organization stays focused on end-user computing and cybersecurity. To learn more about how Nutanix can help your enterprise, contact WEI today.
Next Steps: Recent years have shown how critical the need for greater elasticity really is. This has accelerated the transition to hybrid cloud architectures that utilize the appropriate mix of both private and public clouds. Today's advanced HCI solutions are designed for this new era. Download our tech brief titled, "How Next-Gen HCI Can Support Your Hybrid/Multi-Cloud Enterprise.