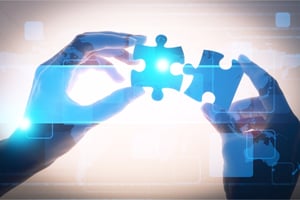 While many industry experts are writing about the importance of IT and digital transformation, few are diving into the details of what exactly they should be transforming to. Should the focus be on analytics and big data? The move to the cloud? Mobility?
The answer is all of the above (plus a few more) and it requires a resilient infrastructure that can easily adapt to changing business priorities without involving expensive hours of maintenance, updates, and service availability. Here are some of the more salient factors driving this change.
How and Why Digital Transformation must happen
The growing role of Digital Transformation
EMA research shows that IT organizations and their business partners are becoming more proactive in finding ways for IT to not only support business needs, but also promote new levels of effectiveness—including new business models optimized for digital services. Unfortunately, IT organizations often remain bogged down in siloed ways of working, rather than focusing more creatively on business requirements and opportunities.
Agile software and Dev/Ops
Digital transformation typically requires frequent introductions of application functionality, but without sacrificing application quality, relevance, or performance. Doing this well requires a truly cross-functional approach to optimizing the application infrastructure.
Cloud in all its forms
Hybrid cloud, most notably public/private and non-cloud environment, all need to work together if the promise of cloud for cost and value optimization can ever be realized. Like everything else, this requires an approach in which systems, network, storage and application interdependencies can all be understood and managed cohesively.
The empowered mobile end user
The journey to digital transformation might still be a bumpy ride if not for dramatic changes in end-user expectations, particularly the growing role of mobile in changing how people live and work. Expectations for speed and choice of digital services are consistently outrunning what the market can deliver, while businesses who continue to rely on traditional ways of working can expect to be extinct before long. Mobile requires seamless support across endpoint management, application performance and delivery, user experience management, and appropriate back-end data center and infrastructure-wide efficiencies.
The converged/hyperconverged infrastructure revolution
A truly converged and hyperconverged infrastructure can dramatically minimize IT's vulnerabilities in adapting to changing business and technology needs. Here's how:
The siloed infrastructure (network/systems/storage) becomes a single system, not a fragmented series of parts, optimized for support business outcomes and needs.
This approach enables IT to invest in a single point of infrastructure delivery with an associated single point of accountability.
A converged infrastructure approach delivers unique values in terms of:

OpEx efficiencies in deployment, administration, DevOps and ongoing service management.
Integration compatibility across hardware and software investments.
Unique security and compliance advantages.
Integrated management across the entire data center.
Dramatically improved levels of automation to reduce repetitive tasks and improve overall responsiveness to incidents, and performance and upgrade needs.
Dell EMC converged and hyperconverged systems
Dell EMC converged and hyperconverged systems have already made a dramatic impact on the industry with more than 3,500 deployments. Their five converged infrastructure principles (listed below) say a great deal about both the direction and intention of the solution overall.
Engineered – Hardware, firmware, and software (across Dell EMC, Cisco, VMware, and Intel components) are engineered together as a single converged/hyperconverged platform.
Manufactured – An ISO-certified manufacturing process assimilates hundreds of physical and logical components into a single "road-tested" product. This isn't just a single source of truth—it's a single source of query, support, and commitment.
Managed – Configuration, health and lifecycle management software are embedded in all systems with unique advantages in cohesive visualization, automation, and proactive insights.
Sustained – Dell EMC's Release Certification Matrix (RCM) and processes deliver dramatic advantages when firmware and hypervisor release upgrades are issued throughout the full lifecycle of the investment.
Supported – Dell EMC offers a single source of support for all of its systems with a dedicated, trained staff available 24/7, 365 days a year.
A brief overview of their solution options includes:
Dell EMC Vblock Systems designed for predictable performance, scalability and reliability to support mixed workloads of mission-critical applications that rely on hardware-based resilience.
Dell EMC VxBlock Systems, like Vblock Systems, are optimized for mixed workloads of Platform 2 applications.
Dell EMC VxRack Systems are hyper-converged systems based on server nodes and are optimized for Platform 3 applications and fast-growth environments, such as Hadoop big data or Dev/Ops and agile development-centric needs.
Dell EMC Vscale Architecture with its Vscale Fabric provides a flexible framework that enables resource-sharing and scalability by allowing Dell EMC Systems to connect via a common Cisco-based spine-leaf LAN and/or core-edge SAN fabric with consistent and predictable performance.
Dell EMC Technology Extensions and Dell EMC Vscale Fabric Technology Extensions respectively add compute, storage and data protection resources directly connected to a specific converged system, or to the network fabric as a shared resource by multiple systems.
WEI Can Help Guide Your Digital Transformation
If you would like more information about how WEI can help with your enterprise's digital transformation with Dell EMC solutions, please contact us.