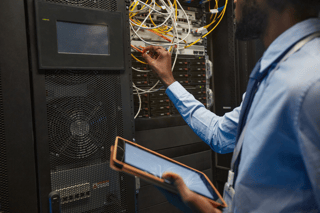 You would be living under a very, very large rock if you were unaware of the incredible post-pandemic evolution taking shape across the digital landscape. The effects that this evolution has had on industries across the globe are seismic. Organizations need to adapt to new technologies, platforms, and business models in order to keep up with digital trends and meet business goals. A key part of staying on top of these growing demands is to accelerate digital transformation with a complete server refresh. This upgrade will not only help your company be more competitive, but it will also help with improved IT infrastructure and faster performance. Let's take a closer look at why you should refresh your servers.
The Importance Of A Server Refresh
Servers are an enterprise foundation, and they truly define what can be accomplished. With newer or updated servers, you can be more efficient and deliver better business outcomes. WEI engineers explain that updating servers and other vital hardware can improve consistency, not only in the reliability of the equipment but also in saving costs and helping accelerate digital transformation through implementing updated equipment. Ultimately, a server refresh can ensure your business is running on the latest equipment, making it easier for IT environments and your digital transformation. If you find that your system isn't capable of meeting the demands of constant technology acceleration, here are three reasons your organization should consider a server refresh.
Improved Server Performance
A server refresh allows you to accelerate digital transformation with a modern operating system. This makes it easier to leverage the latest versions of applications in order to expand your abilities and server performance. Refreshing your server ultimately leads to a better capability to meet business goals. According to Dell Technologies, "Organizations have the potential to realize over $123,000 in additional revenue per server, per year by taking advantage of the higher performance, improved agility, and greater scalability of new servers."
Protection From Cyber Threats
Ransomware attacks are on the rise. Forbes reports, "In 2021, the average number of cyberattacks and data breaches increased by 15.1% from the previous year." With a server refresh, your data center can be equipped with integrated security features that can protect and defend valuable data. As a responsible IT leader, you cannot leave your organization's most valuable asset vulnerable!
An Automated Environment
Upgrading your servers can help your enterprise take full advantage of today's technology. A modernized IT infrastructure naturally leads to improved management since the amount of physical hardware needed decreases. When workloads are automated, you also save resources and time.
Why Conduct A Server Refresh Now?
As you are most likely aware already, older servers frequently run on outdated operating systems, which creates a vulnerability for your business. A server refresh will allow your organization to flourish. It is recommended that businesses refresh servers about every three years.
With a modernized approach to IT infrastructure, you have the ability to invest in emerging technologies at a quicker pace than those who are falling behind. A server refresh drives greater benefits like the three listed above and can help deliver applications that better meet end-user needs.
A Modern Server Refresh
Modernizing a business has many benefits from security enhancement to increased efficiency. Keeping up with the ever-evolving, data-driven technology of today can be a challenge for many organizations. However, solutions like Dell PowerEdge are a powerful tool for businesses to accelerate digital transformation and are designed to grow with your company. Since a regular server refresh is now an important IT requirement, it's important to maximize performance with comprehensive tech solutions like Dell's.
Dell PowerEdge adapts to business needs and includes three state-of-the-art features worth recognizing:
Scalable business architecture: Flexible internal storage leads to maximized performance across an array of applications.


Intelligent automation: The entire lifecycle of the server can be automated with embedded intelligence, supporting increased productivity.


Integrated security: Deep levels of defense are built into the hardware and firmware of every server, protecting you and your customers.
The PowerEdge server has a rich portfolio of servers including rack servers, tower servers, and management software.
Conclusion
Adhering to refresh cycles will move your business forward with the benefits of reduced costs, enhanced performance and productivity, and mitigated cyber threats. Make sure to evaluate your IT infrastructure and overall organizational needs before pursuing a server refresh.
If you're interested in getting started with updating your servers, WEI has the resources necessary to help you understand how to best manage yours. Contact our IT experts today to learn more.
Next Step: Discover more about refreshing your servers and enhancing digital transformation by downloading our tech brief, Accelerating IT Modernization with Server Refresh.