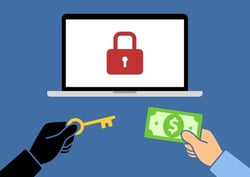 The news is buzzing with instances of companies being taken for a ride by cyber thieves. Their new tactic? Injecting dangerous software into the organization and locking their data up until a ransom is paid. While the FBI still recommends not paying the ransom, enterprises are taking varying approaches to combatting ransomware. In this post we dive into some recent ransomware attacks and takeaways your organization can learn from them.
The Real Definition of Ransomware
Fans of the Netflix hit Original TV Show "Orange is the New Black" heard quite the news; reports surfaced that Season 5 had been hijacked from a Hollywood distributor and held for ransom by a hacker group calling themselves The Dark Overlord. After Netflix reportedly refused to pay the ransom, episodes of the new season were leaked online to illegal torrent websites like Pirate Bay and links were tweeted out on Twitter. Sounds like ransomware, right?
However, this story was misinterpreted, as holding an item for ransom and using a computer to do it does not necessarily equal 'ransomware;' it might just be a simple case of cyber theft. Instead, real ransomware is a software tool that crawls like a spider into your network and encrypts data until a ransom is paid; organizations are then given the master key to decrypt the data once the funds have been received by the attacker. The Netflix attack did not meet these requirements; it was a targeted hack to steal specific files, not a comprehensive software breach.
What did we learn from the Netflix hack? Even larger corporate giants aren't safe from cyberattacks; in fact, they may be less safe than smaller organizations. As Best VPN reports, The Dark Overlord group says this is just beginning, and they will be targeting companies like FOX, ABC, National Geographic and others in the future; they've said that no organization is safe. To protect your enterprise, it's crucial to take necessary steps to secure your organization's data preemptively before the next threat.
Learning from a Recent Ransomware Attack
Disney's "Pirates of the Caribbean: Dead Men Tell No Tales"
As this next ransomware breach shows, even mega giants like Disney are not immune to the demands of hackers. Recently, the fifth installment of the wildly popular Pirates of the Caribbean franchise was stolen in true pirate fashion, allegedly from a Hollywood distributor. Differing from Netflix's 'Orange is the New Black" scare, the cybercriminals launched a malicious software, locking up the information until an unspecified ransom was paid in Bitcoin, according to The Los Angeles Times.
If It Walks Like a Pirate and Talks Like a Pirate…
As reported by Gizmodo via Disney's CEO, "The perpetrators of the crime informed Disney that they would release the first five minutes of the film and continue to leak 20-minute chunks until the ransom is paid." Disney is following the advice of the FBI, whom they are working with, and have decided not to pay the ransom.
Could Disney's ransomware attack have been prevented? Probably. Since the leak was allegedly through a Hollywood distributor, strong security policies that include vendors and contractors might have strengthened the weak link. Be sure to be crystal clear when transmitting information to third parties, and throughout your own company, to avoid cybercrime. As Benjamin Franklin said, "A small leak can sink a great ship."
NEXT STEPS: Take a lesson from these massive ransomware breaches and protect your organization's valuable information properly. For more advice on avoiding a ransomware attack, read this blog post and contact the WEI team today for a FREE security and threat prevention assessment.