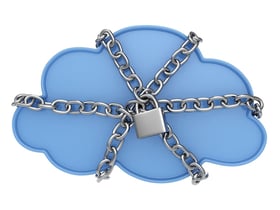 Not so long ago, many enterprises were reluctant to adopt cloud computing technologies or Anything-as-a-Service (AaaS), mostly due to the concerns about weak security and loss of data control. After all, the traditional approach to network security is heavily focused on protecting the physical network perimeter.
Many IT pros wonder, "How do you do that when the internet is being used to interact with applications, services, and data?" It's no surprise that organizations were a bit unsettled with the idea of sharing the responsibility of security and privacy with cloud providers. However, this doesn't have to deter you from enjoying the many benefits of the cloud; read on for the most common cloud security concerns and what you can do about them.
The Concern: A Security Breach
A security incident or data breach, in the form of a hack, phishing scam, lost or stolen user credentials, malware occurrence, ransomware demand or internal employee threat is a real possibility.
The Solution: Strong Security Policies Across All Levels of Your Organization
To decrease the likelihood of these incidents, it's important to have a solid cloud security policy in place that is well-communicated to, and understood by, employees across all levels of your organization. Make sure to hold regular (at least yearly, but ideally every six months) security meetings to go over items like what to do in case of a lost password, what types of emails are suspicious and the chain of command for reporting potential security threats.
The Concern:Being Out of Compliance
There are potential legal concerns regarding the storage of owned, stored and collected data, especially information relating to your customers, when it's housed in the cloud. It's crucial to stay current on both industry and government cloud computing regulations to protect the interests of your enterprise. Failing to do so can lead to hefty fines and potentially even business sanctions.
The Solution: Review Certifications Regularly
Reviewing your cloud security provider's security certifications is the best way to make sure you and your data are in compliance. Depending on your industry and what data is being stored in the cloud, there are several certifications to check and make sure they meet compliance mandates. While you should review your vendors' policies, you should never solely rely on their assessments; be sure to conduct your own internal audits and check certifications on your end in case the vendor were to amend their security policy or misreport their information.
The Concern: Loss of Data Due to Disaster
Disasters are, by nature, forces that are outside of your control. No matter how hard you plan for the worst, there may always be missing pieces and overlooked items that could compromise your enterprise's security should an event occur.
The Solution: Create a Robust Disaster Recovery and Business Continuity Plan
Since nearly all businesses in the modern world are running digitally, they can't afford to lose critical data or information in the event of a hacking, flood, hurricane, earthquake or security incident. Having a disaster recovery plan is one way to mitigate this threat and ensure business continuity. There are three components to a robust strategy:
Solid Goals: The first thing you should do is set measureable and realistic goals, since you'll be relying upon them when you need to deploy your disaster recovery tactics. Try to imagine as many outcomes as possible so you are prepared for the worst case scenario.
Secured Apps: You may be quick to secure on-premise infrastructure, but have you accounted for all web-based tools and apps? Anywhere you share information, use a login and password, or send emails can be a potential threat.
Consistent Assessment: Once your disaster recovery plan is in place, your planning isn't over. Keep assessing the strength of your tactics and tweak it as necessary. Since your business' needs evolve, change and grow, this should be a fluid plan.
When you aren't concerned about a breach in cloud security, you'll be able to see more benefits to your organization. If you're concerned about the strength of your current cloud security strategy, contact us today for assistance.