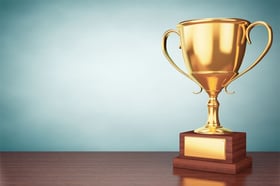 We are proud to announce; for the third year in a row, we've been named to Business NH Magazine's prestigious list of Top Family Owned Businesses by revenue. This year WEI ranked #2 on the list of Top Family Owned Businesses, up from #7 in both 2014 and 2015.
We are honored to be distinguished among 157 other companies on the list, and it's an impressive accomplishment to be ranked #2. WEI also was ranked 9th on the list for average annual revenue growth between 2013 and 2015.
Strong Relationships Lead to Continued Success
As our founder and president Belisario Rosas explains, "We're thrilled to be named to Business NH Magazine's annual list for the third year in a row, and are pleased to see our ranking improve over the last couple of placements. By investing in our clients and prioritizing their success, WEI is able to build stronger relationships and become a reliable technology partner for years to come."
How are we able to grow alongside of our clients and partners? The answer is simple. During the recession, while our competitors cut back on the valuable services and amenities they provided to customers, WEI continued to provide demo gear, engineering services and free training seminars. These practices are something we truly believe in, and are the reason the bulk of our business comes as referrals from satisfied customers.
We Provide Customized IT Solutions
The IT industry may be booming, but some enterprises may still be suffering during a period of economic recovery. Business NH Magazine sees signs of hope in tough economic times among the ranked companies on their list. We continually strive to serve our clients with the best customer service and most advanced options available. By becoming a trusted advisor and technology partner for our customers, we are then able to identify goals of their specific business, identify potential challenges they may face, and determine their ultimate IT needs and objectives. Then, our advisors can create unique, customized IT solutions to aid in their success.
We are proud to be featured on the 2014, 2015 and now the 2016 Top Family Owned Businesses lists. Business NH Magazine's Top Family Owned Businesses list is featured in their August issue.
At WEI, we believe that our clients and partners are our most valuable key to success. As an expert in business technology improvement, we help our clients optimize their compute environments and work more efficiently. Our sales and technical teams remain focused on providing unwavering support to your organization throughout all steps of an IT project. For more information about our solutions, please visit www.WEI.com. You can also see our press release about this new award here. To learn more about Business NH Magazine, visit their website.