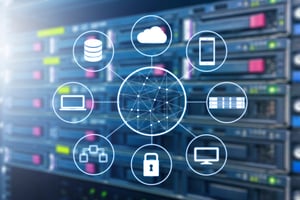 As storage volumes continue to grow and enterprises make use of secondary storage to manage corporate data, they also need to backup these storage solutions. However, incorporating secondary storage into an enterprise-wide backup and recovery strategy is not always simple.
Integrated backup solutions, which have been around for some time, are purpose-built to be deployed rapidly and reduce the need for IT to manage separate silos of data. However, while they are popular for legacy infrastructure, and can also be applied to cloud and hyper-converged infrastructure, they add unnecessary layers of complexity for administrators, leading to problems with operability and access.
Nevertheless, this secondary data, which may not be needed on a day-to-day basis, still needs to be quickly accessible when the time arises, and needs to be adequately backed up to prevent data loss.
So, how can enterprises effectively backup secondary storage without burdening IT? By using Nutanix Mine with HYCU.
Making secondary storage backup simple
We've explained why backing up secondary storage can be complicated. Now, let's talk about how Nutanix Mine with HYCU makes it easy.
By combining the simplicity benefits of Nutanix Enterprise Cloud, extended to secondary storage through Nutanix Mine, with HYCU backup services, you get a solution that eliminates the need for siloed infrastructure and makes backup a native service of the platform.
The solution is ideal for large organizations and service providers who are looking for a self-service option. Backup and recovery are effortless and by leveraging Nutanix Replication, unnecessary backup traffic over WAN is totally eliminated.
It offers total coverage for enterprise workloads, reduces the burden on IT by removing the need for a dedicated backup team and allows the entire backup infrastructure to be managed from one console.
Implementation is also quick and easy. The solution makes use of the Nutanix Prism interface, so IT teams already familiar with Nutanix solutions will not need additional training or resources to manage the secondary storage array. Even for those not already familiar with Nutanix, deployment is simple and the solution is built for easy management.
IT leaders will also be pleased by the overall low total cost of ownership, largely thanks to being an all-inclusive solution that does not require the purchase of additional licenses for the backup appliance.
Are you interested? Take Nutanix Mine with HYCU for a test drive
As recently announced, Nutanix Test Drive 2.5 now includes integration with Nutanix Mine with HYCU.
Nutanix Test Drive lets enterprises try out Nutanix platforms quickly and easily through a web browser. Enterprises can take a guided tour of the solution which, according to Nutanix, focuses on:
How the physical and virtual components of Mine fit together
The integration between Nutanix Prism and HYCU in a simplified dashboard
The various Mine-specific and generic backup constructs within HYCU
How to configure and execute backup and recovery
If you'd like to test drive the solution for yourself, you can get started with the Test Drive Simplified Backup with HYCU webpage.
If you'd rather explore outside of the guided tour, you can close the on-screen prompts at any time. Nutanix Engineers are also available through text chat at any time to answer questions regarding the solution.
Ready to learn more about Nutanix Mine with HYCU?
Nutanix Mine with HYCU, a hyper-converged backup appliance, is built upon the foundations of Nutanix's platform strength and HYCU's natively integrated backup service. By combining the two, the platform provides complete coverage and offers single-pane-of-glass management. The low cost of ownership and overall simplicity of implementation and deployment makes this an ideal solution for any enterprise looking to reduce the backup burden on IT and save resources. If you're ready to make the change now, contact WEI to begin building a custom solution for your business.