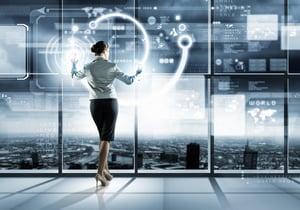 How big of a role does your wireless infrastructure play in your enterprise today? While Wi-Fi may have served as a supplementary network a decade ago, it is fast becoming the primary means to which users access the Internet today. The Internet isn't just the web anymore. It's where your cloud applications reside, which means that your wireless infrastructure is your network and its optimum performance is critical to your company's productivity. Yet, companies today still hang on to wireless networking architectures that weren't designed to deliver the scalability and predictability that is needed today.
The Legacy Wireless Model of Yesteryear
While companies continue to scramble to migrate so many of their applications, compute resources, and assets to the cloud, wireless continues to be left on premise. While great efficiencies and agility are being obtained through the adaption of cloud computing and hybrid architectures, the vast majority of networks rely on the traditional wireless controller to deliver and manage wireless services. While the wireless controller has certainly served its purpose well up until now, its architecture however is based on a single monolithic software image. In order to introduce new features, more code must be implanted, which creates complex interdependencies throughout the image. As the burgeoning encased platform grows, so does development and testing cycles, as well as the number of bugs.
It's not just the code size of your controllers that expands, but the number of controllers as well. With mission critical status of wireless today, additional controllers are needed to provide replicated resiliency. In the largest of enterprises, specific controllers are dedicated to singular functions such as logging, while some controllers must reside in a stagnant state waiting to be powered up in order to meet temporal demand surges. So why continue to finance and support all of this hardware in the era of the cloud?
Why Can't Wireless Be Truly Cloud Based
Why do so many enterprises accept the encumbered restrictions of controller based wireless in the modern era of the cloud? Why have companies been so receptive to maximizing cloud architectures for other facets of the enterprises, while ignoring the possibilities for wireless?
According to IDC, companies are waking up to this realization as one of third of the total wireless market is expected to transition to the cloud by 2020. Companies are realizing that the true potential of wireless innovation can no longer be ignored. But what does cloud-based wireless look like today? Cloud-based wireless is more than just providing centralized access to virtual WLAN controllers. While first generation wireless cloud solutions provide wireless admins simplified access to management features, they fall short of the full suite of advantages that the cloud can offer.

Mist Has Created the Complete Package for Cloud-based Wireless
Large innovative leaps are rarely introduced into the marketplace by the current set of industry leaders. Instead they are developed by new market participants who see things through a different lens and start with a fresh canvas. That is what Mist did. Mist recognized years ago that the world is going cloud, and therefore, so must wireless. They then created a purpose built cloud based wireless solution from the ground up. Their solution not only provides cloud-based management, but incorporates real-time analytics and visibility into your wireless ecosphere. It's also driven by AI, making it smarter and more reliable. This isn't a first generational offering. It is a next generation solution, providing the scalability, agility, and intelligence you need to service your wireless users.
The Mist Microservices Architecture
Mist has unveiled a solution based around what they refer to as microservice architecture. While controller based features and services are meshed together in a single interconnected package, Mist provides a distributed set of independently deployable and manageable modular services. This is more than just a new architectural approach. It is a new philosophy in approaching wireless innovation. Each Mist microservice has a dedicated team of engineers that are singularly focused on its development. Because these microservices operate independently from one another, multiple versions of the same microservice can run in parallel with one another. This DevOps approach allows for continual development and testing, delivering real time innovation to Mist customers.
This distributed segmentation architecture provides other key benefits as well. Services themselves can be scaled up or down in order to work in tune with demand fluctuations. In other words, the added presence of a particular service does not mean that an additional AP is needed. Service isolation also increases the reliability of your wireless, as the failure of a particular service does not translate into the entire system being down.
Experience What the Cloud Can Bring to Wireless
Companies are choosing the cloud because of its scalability, resiliency, and operational simplicity. This is exactly what Mist offers. Mist provides innovation that is built upon AI, bringing intelligent based visibility, efficiency, and troubleshooting analytics that can take your wireless network to the next level. As Mist says, wireless is no longer just about connectivity, it's about the user experience. With Mist cloud based innovation, you can maximize that experience for your wireless users.
Next Steps: Wi-Fi now goes beyond the basics to support even the most strategic applications and business objectives. Download our tech brief, "The Top 5 Roles of Wi-Fi for the Enterprise," to learn more.